Deb Lovci Awarded Best Ski Guide By Outside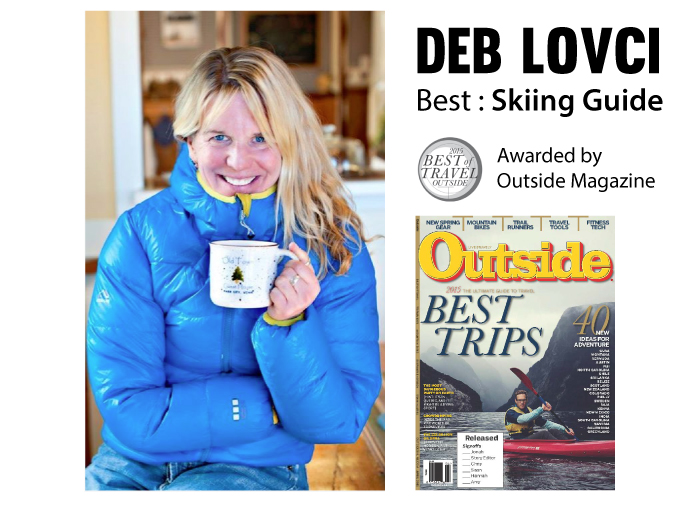 OUTSIDE Names Ski Utah's Interconnect Tour Lead Guide Deb Lovci as Best Ski Guide In Its Best of Travel 2015
Salt Lake City, Utah (March 11, 2015) - Ski Utah is proud to announce that our Interconnect Tour Lead Guide, Deb Lovci has been honored with the great award of being OUTSIDE Magazine's Best Guide in the Best of Travel 2015 Awards. This year, OUTSIDE, America's leading active lifestyle brand, scoured the globe to identify the coolest mountains to climb, food to eat, rivers to float, guides to hire, beaches to lounge on, and lodges to luxuriate in.
Deb is an avid outdoor enthusiast, who loves living and working in the Wasatch. Here she can enjoy the Greatest Snow on Earth and stay dedicated to her passion of skiing. In her own words, Deb stated, "I have such an amazing passion for the mountains and working for The Interconnect Tour allows me to share that with clients everyday. The Wasatch Mountain range has taught me so much and it has totally helped me be the best person I can be. I hope I can do this for another 25+ years."
Ski Utah's Interconnect Tour gives an advanced to expert skier the opportunity to experience the magnificent beauty and incredible backcountry terrain of the Wasatch Mountain Range. Tours operate seven days a week, weather and conditions permitting. Guests will ski resort terrain & the backcountry terrain between and through as many as six* resorts in one day.
"Deb is one of the most passionate, focused, knowledgeable guides in the industry. Without her as the forefront of our Interconnect Tour, we would not have the success we have," says director of communications for Ski Utah, Paul Marshall. "She has been an avid part of the Interconnect Tour for 27 years and this award is more than well deserved."

The complete list of Best of Travel winners will be featured in the April issue of OUTSIDE, available today March 17, and online at www.outsideonline.com/5best-travel-guides. Continue the conversation with #OutsideTravel2015.

###
Ski Utah is the marketing firm owned and operated by the 15 statewide ski resorts that make up the Utah Ski and Snowboard Association. The organization has been creating brand awareness of and demand for the Utah wintersports product since its inception in 1978. Ski Utah's primary functions are concentrated in marketing, public policy and public relations. Information about Ski Utah and its members can be found at skiutah.com, on Twitter and Instagram @SkiUtah and on Facebook at www.facebook.com/skiutahyeti. This release and other press information can be found in the online press room at http://www.skiutah.com/News/.