The Queen of the Backcountry
Related Post
The Ski Utah Interconnect Tour is up and running for the season, now it's time you meet nationally recognized backcountry guide Deb Lovci, the high-altitude devotee's one-stop shop.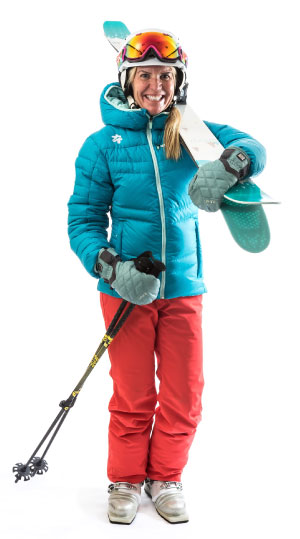 Unlike many Utah transplants—urban refugees seeking the mountain town dream—Ski Utah Interconnect Tour Lead Guide Deb Lovci hales from a locale very similar to many communities found throughout Utah's Wasatch Mountains. "I grew up in Boulder, Colorado, which gave me my love for the mountains," she says, "but I wanted to find a place I could call my own." So, 26 years ago, Lovci bought a miner's shack in Park City's historic district and put the backcountry skiing skills she'd honed her entire life to work for Ski Utah. Since then, she's amassed a loyal clientele of skiers from around the world, many of whom spend multiple days with her both on snow with the Ski Utah Interconnect Tour and at her Park City B&B, Old Town Guest House. Be advised: if you'd like to experience Lovci's adept guiding skills for yourself, book her early. Last March, Outside magazine named Lovci Best Skiing Guide as part of its 2015 "Best of Travel" issue.
We sat down with Deb recently and wanted to find out more about her and the passion that drives her to be in the mountains every day. 
Ski Utah: Would you say the Interconnect Tour is a good way to try out backcountry skiing? 
Deb Lovci: Absolutely! Our day in the mountains gives aspiring off-piste skiers an introduction to the skills required to stay safe out-of-bounds while sampling the amazing Wasatch Mountains backcountry.
Ski Utah: Describe a typical day in the mountains with you.
Deb Lovci: We meet with Interconnect Tour groups in the morning and give them an overview of the day, talking about safety and group travel. Once we load the chairlifts, we ski through up to six resorts via the backcountry in all kinds of conditions and varied terrain. We also show groups some of our favorite stashes within the resorts we ski through.
Ski Utah: Why do you think the editors at Outside magazine singled you out?
Deb Lovci: Number one is the Interconnect Tour's safety record. We don't ever push it, and I can honestly say we have the best safety record in the industry. Longevity is another reason. I've been doing this long enough that I've developed a great clientele who regularly come and play in the mountains with me. Lastly is that I truly love it. I can't imagine doing anything else.
Ski Utah: What does a great day on the mountain mean to you?
Deb Lovci: When one of my clients falls in love with the backcountry and can't wait to come back. Better yet is when they are staying at my inn and love the entire experience.
So what are you waiting for? Sign up for the Interconnect Tour and request Deb. Ok, ok, the other guides are top notch as well. 
The Ski Utah Interconnect Tour takes advanced and expert skiers between and through as many as six central Wasatch Mountain resorts in a single day. Cost is $325 per person (includes lunch, use of an Ortovox avalanche beacon, finisher's pin and transportation back to point of origin). Participants must be 16 years of age or older. Private tours are available. Snowboards are not allowed. For details and to book, visit skiutah.com/interconnect or call (801) 534-1907.